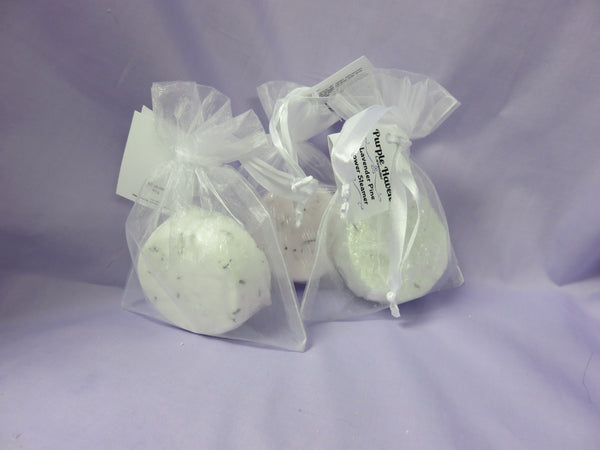 Shower Steamer
Want an indulgent sensory experience but aren't partial to taking baths?

Then our shower steamer (shower bomb) is right for you.
You get an Aromatherapy treatment while steaming away in your shower.

They are very similar to Bath bombs but sit out of the water and utilize heat and humidity to release essential oils and create an aroma-therapeutic environment for you. They will last for two showers.
Lavender
Relax after a long day and get ready for bed with this rich floral scent.

Chocolate Lavender Mint
Smells good enough to eat!

Rejuvenating Lavender
A wonderful blend of Peppermint, Lavender, Rosemary, Marigold, Uva Ursi, Red & Pink Rose Petals & Rosehips designed to enhance the showering experience.

Lavender Green Tea
smells good enough to drink!

Berry Lavender
A deliciously wonderful explosion with sweet berries

Lavender Spearmint
Warm, spicy-herbaceous, minty smell

Lavender Lemongrass
this combination is known for its nerve-settling, sleep-inducing, soothing effects.

Lavender Margarita
is a crisp, fresh scent with bright top notes of ozone and lime
Lavender Noroli
An exotic sweet floral citrus aroma
Lavender Pine
A woodsy evergreen forest-like aroma.  It is said to be helpful for coughs and colds.

Toss your shower steamer at the edge of the tub the next time you take a shower. Keep it out of the shower stream, but ensure it lay comfortably in a small pool of water. Let the aromas invigorate your senses!


Each One in package. approx. 65g in size. Comes wrapped with directions.