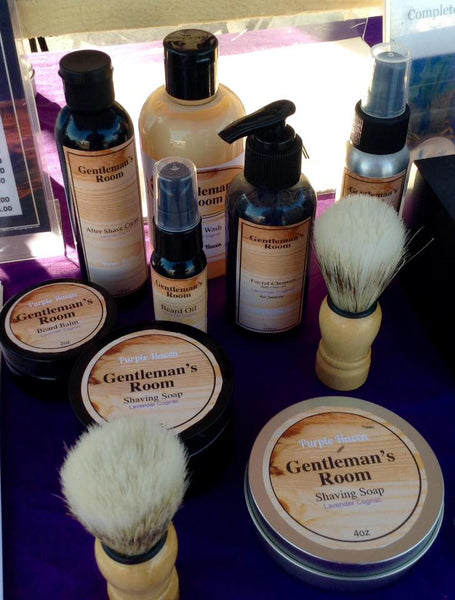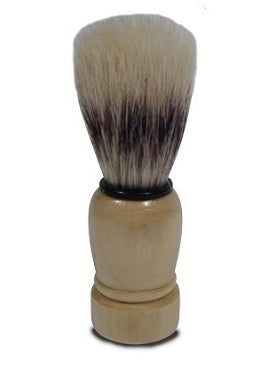 Shaving soap Lavender Cognac
Shaving soap is a prime example of a classic men's grooming essential.  Traditional shaving soap is lathered up with a brush.
A distinctly masculine scent that will take you back in time  to the barbershop and hanging around talking& telling a dirty joke or two with the guys a blend of lavender with Cedarwood, fresh leather, zesty lemon,  cognac and spicy tobacco
  To build a good lather follow these directions:
Run your brush under very hot water or leave your brush in a sink of hot water for at least 1 minute.  Our brush is a natural boar bristle with a wood handle
Make sure your brush has soaked up the hot   Do not tap too much water off the brush, you want to brush to retain the moisture so that it will help to soften beard hair and open pores. 
Lather up the soap right in the tin. Using the cream you can scoop some out to a bowl if you prefer.  Lather up the soap using a circular motion till you have a thick warm lather.
Apply to your face in circular motion, the longer you whisk the more the richer the lather the smoother the shave
Add more water to lather back up for a second round
Empty the excess water from the tin and let air dry.
4oz 
100% Pure Natural Glycerine Soap
Vegetable Oil Recipe
GMO Free
Non-Comedogenic
Biodegradable
No Detergents
No Surfactants
No Sulfates
No Alcohol
No Sugar Solutions
No Animal Testing
No Animal Products
Vegan

 Ingredients: Coconut Oil, Palm Oil, Safflower Oil, Glycerin (vegetable origin), Purified Water, Sodium Hydroxide, Sorbitol (moisturizer), Sorbitan oleate (emulsifer), Oat protein (conditioner).Wheat Protein (conditioner) Lavender Essential Oil, Fragrance Oil