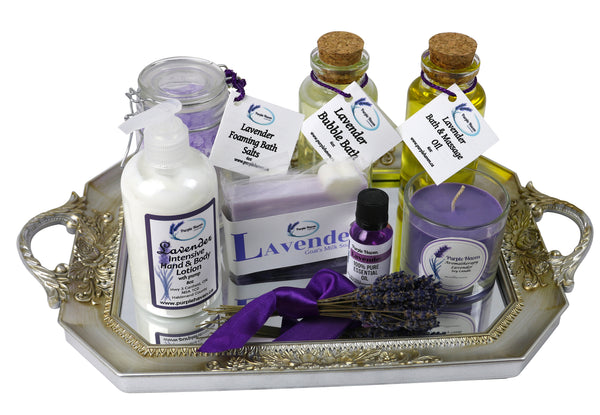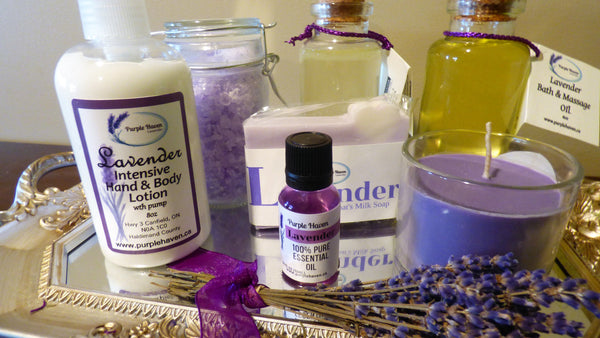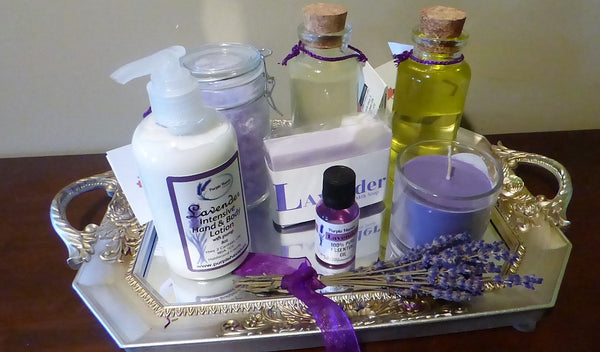 Lavender Lover's Bath Gift Set
Show someone special you care this Christmas with our Lavender Lover's Bath Set.
This beautiful set includes
Our massage & bath oil that is made from premium natural skin care oils that are nourishing and moisturizing for your skin. Nicely scented with lavender essential oil which has the aromatherapy properties for relaxation.  Packaged in a beautiful Apothecary style glass jar with cork lid.
Our gentle yet high foaming lavender bubble bath using moisturizing properties from Glycerin and Aloe Vera,  will let you soak away your worries while relaxing with the aroma of lavender.  Packaged in a beautiful Apothecary style glass jar with cork lid.
 Our foaming bath salts which are made with  Premium Epsom Salt and Coarse  Dead Sea Salt, will leave your skin feeling soft, smooth, and refreshed,  This formula has a nice foaming action with the aromatherapy of lavender essential  oil.  Packaged in a older-style bail glass jars.  
Our most popular lotion, that has a silky feeling which provides moisturizing benefits to dry skin without leaving a greasy after-feel.  Beautifully scented with lavender essential oil.  packaged in a clear pump bottle. 
A bar of our lavender goat's milk soap   A fabulous moisturizing and  nourishing soap for your skin.  Nicely scented using lavender essential oils
Our Aromatherapy Soy Candle is made using 100% soy wax and lavender essential oils.  This aroma therapeutic candle will lightly fill the air with the benefits of lavender.  
10ml of lavender essential oil 
small bunch of lavender
Sitting nicely on a mirrored tray give this sets a touch of class.  Limited amounts are available.