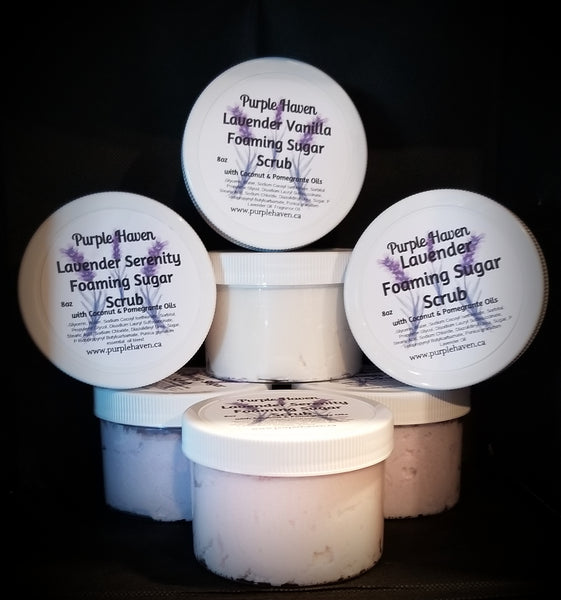 Foaming Sugar Scrub
Our Fluffy, Creamy, whipped soap is thick, silky smooth, versatile and gentle on your skin.   Sugar is also added for a natural and gentle way to exfoliate your skin.  The addition of Coconut Oil and Pomegranate Oil adds extra benefits for your skin.  Coconut oil is known to be gentle on the skin while being a great moisturizing benefit for dry flaky skin.  Using coconut oil not only treats acne, but it prevents further outbreaks as well. Coconut oil may guard against ageing of the skin through offering protection from free radicals.  Pomegranate oil has superior moisturizing ability, nourishing and softening the skin while it regenerates and repairs skin, and effectively reduces and prevents wrinkles in the epidermis
.
Can be used in Bath or in Shower.  
Simply scoop a small amount of cream soap from jar and use with hot water to enjoy its thick aromatic lather as a hand or body soap. It produces a creamy lather with fantastic levels of foam with a mild formulation 

NOTE:  DUE TO PACKAGING ISSUES SOME OF THESE ITEMS ARE NOW IN A WHITE JAR INSTEAD OF A CLEAR JAR.