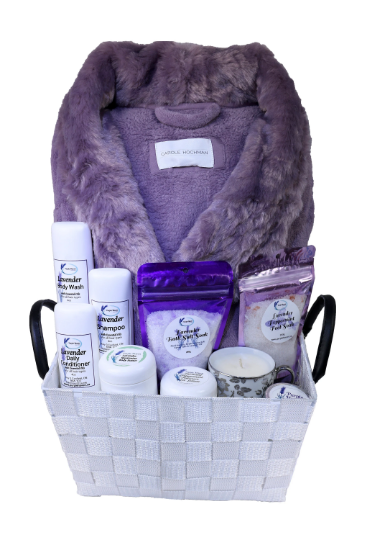 Elegant Aromatherapy Lavender Spa & Relaxation Gift Set
This beautiful set has everything needed for a special pampering spa day at home. Treat yourself or someone special to a relaxing aromatherapy treatment. This set is sure to please.
Included
-A beautiful plush robe. Size x large (12-18) relax fit soft shawl collar wrap robe with patch pockets
Abstract design faux fur trim at collar and cuffs. in a mauve colour. 100% polyester
-Beautiful and elegant lavender soy candle in a white  tea cup.
-Lavender Shampoo
-Lavender Conditioner
-Lavender Body Wash
-Lavender Body Butter
-Lavender & Peppermint foot cream
-Lavender & Peppermint foot soak
-Lavender Bath Salts
-Small tin Lavender Earl Grey loose tea

All arranged in a large white woven fabric basket with black handles that can be used for many things.