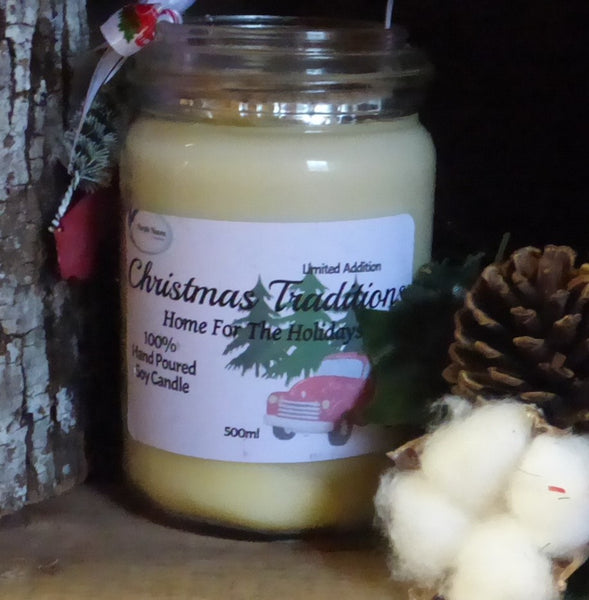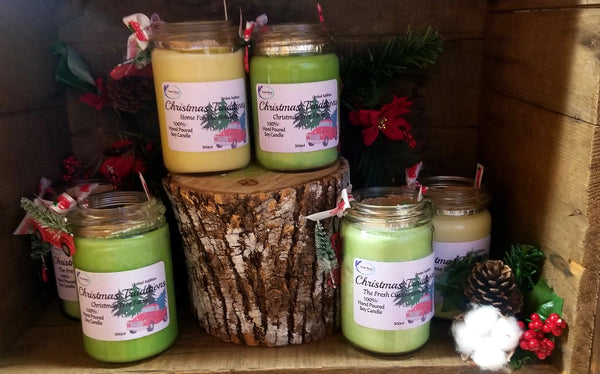 Christmas Traditions Limited Addition Soy Candles
Christmas Traditions Soy Candles "limited addition"  are  a perfect gift whether you're celebrating the holidays in-person or sending love from a far.  Get into the holiday spirit with our Christmas Traditions Candles.  These candles are 100% soy candles made in Vintage crown canning jars made by Dominion Glass Company of Canada.  This is why we have limited stock for these candles.  
Beautifully decorated with a red Christmas truck ornament with it's own Christmas tree,   this will make a perfect gift for those you love, appreciate and  and who matter the most.   
Three scents available 
Home for the Holidays This scent is infused with fir needles with a hints of warm cinnamon bark, orange, clove and frankincense, this scent will warm your heart of memories of Christmas gone by.  
Christmas Tree Farm   This nostalgic scent of  the evergreens as you walk the tree farm looking for that special Christmas tree.  This beautiful woodland scent of pine trees will take you back to those wintry days of comfort and joy.
The Fresh Cut Christmas Tree  smell of crisp winter air and fir needles. This very cold and fresh smelling scent will remind you of the fresh cut Christmas tree.