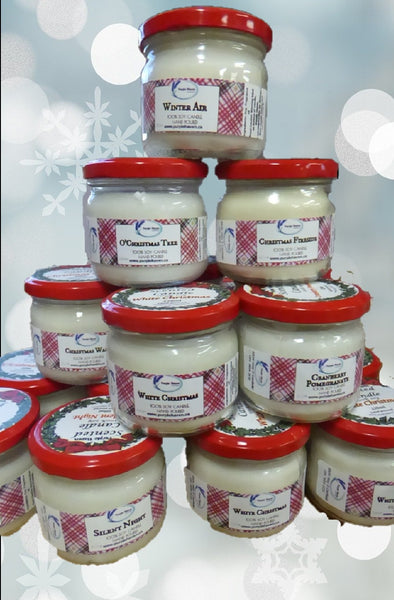 Hand Crafted All Natural Soy Candles Christmas Collection
Hand Crafted All Natural Soy Candle
 It's Christmas time!
It's that time  of year to decorate your home in warm, cozy and festive accessories, but no home is completely decorated without the soft glow of candlelight and a house-warming scent. Enjoy the classic smells of Christmas with our Christmas Candle Collection 
Soy Candle Wax
100% Plant Based Soy Wax
Free of Genetically Modified Material (GMM)
Free of Pesticide and Herbicide Residue
Sustainable, Renewable, and Biodegradable
No Animal, Insect or Petroleum Products
Extremely Clean Burning
Long-lasting
Vegan friendly
No animal testing
Fragrances are used in these candles
Soy Candles burn up to twice as long as paraffin candles.  Paraffin candles contain toxic air contaminants Soy is natural and clean.   
Soy Candles are the way to go for a healthier home environment.
220ml jar 
Use/burn time:
Soy wax burns clean and is eco friendly. Candle burn time depends on your candle care. Please see below instructions. Burn time is approximately 20 hours. Once your candle is finished, you can reuse or recycle your jar. Simply clean your jar in warm soapy water.
Our candles are hand made, therefore you might see some variations in color, texture, and appearance. This is normal and will not affect the performance of the candle. Please understand that scents are subjective. What is light smelling to one person, may be considered strong to someone else.
IMPORTANT: CANDLE SAFETY
Do not burn candle for more than 2 hours at any one time. Once candle has melted fully to liquid, always ensure the wax sets evenly by leaving to cool on a flat surface.
Always burn your Soy candle in a well-ventilated room.
For smaller candles keep wick trimmed to 1/4″ at all times to ensure even burning and to prevent the flame from becoming too large. If wick moves too close to the side of the jar, extinguish flame, wait to cool and move away from the side of the container.
Always burn candles within sight and never leave burning candles unattended.
Burn candle on a stable heat resistant surface.
Keep out of reach of children and pets.
Extinguish the flame if it comes too close to the side of the container.
Keep away from drafts and vents. Always keep candle away from anything that can catch fire.
Do not touch candle when lit or when wax is melted, as glass can become extremely hot.
Keep wax free of wick trimmings, matches and any other flammable material.
Extinguish your candle if it smokes or if flame becomes larger than 1″. Let candle cool for at least an hour before trimming wick.
To discard wax pour into a disposal bin or similar container, never pour wax down sink drains.
---